WLAN Tester Market Expands
Fluke Networks has dominated the handheld WiFi test space with AirCheck, but two new testing tools aim to compete for market share.
When it comes to enterprise WLAN test tools, there are a few must-haves. For example, any WiFi tester that wants to play in the enterprise WiFi space needs to accurately show what's going on with channels and power in both the 2.4 GHz and 5 GHz spectrums. Displaying access points and clients within the receiver capture area is another requirement, as is "device finder" functionality that helps you track down specific devices.
The list goes on, but packaging all these capabilities in a stand-alone, handheld tester is a different animal than merely loading software on a tablet or laptop. With a dedicated tester, the hardware is constant, and so the paradigm more closely approximates legitimate test equipment. With software, you're at the mercy of the WLAN adapter and operating system of each client device, so the same program can act and feel different across a variety of devices. This is why experienced WLAN engineers often prefer stand-alone handheld testers over application-based testers.
For the last few years, Fluke Networks has dominated the handheld WLAN tester space with its AirCheck product line. Portability combined with a slick feature set make AirCheck a favorite with WiFi engineers, but there are a couple of interesting new handheld WiFi testers vying for marketshare.
The first is 802 AWE from a company called Trilithic, and the second is Artisan Handheld WiFi Tester by Vonaq. Of the two, 802 AWE has the more robust feature set, but both are interesting in their own ways.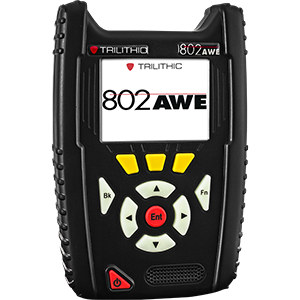 Like AirCheck, 802 AWE supports 802.11 technologies through 11ac. Also like AirCheck, Trilithic's product can only do 11ac "at 11n speeds." The Artisan WiFi tester (pictured below) currently only goes through 11n. All three testers do the normal range of WiFi survey tasks, and each seems to do a really pretty job of graphically showing what's going on with monitored frequencies. Each features some performance testing capabilities; all three tools have ping and traceroute while both AirCheck and Artisan include several others. All three testers also can perform wired Ethernet testing to 10/100 speeds with onboard RJ-45 jacks.
802 AWE has an interesting additional set of capabilities: It also identifies and tests both Bluetooth and ZigBee signals, and positions itself to support building automation systems that use non-802.11 wireless. The 802 AWE doesn't appear to support an external antenna, while AirCheck provides one when directional capabilities are required and Artisan uses only external antennas. Each WLAN tester has report storing and companion software that runs on a PC for downloading and archiving reports from the testers.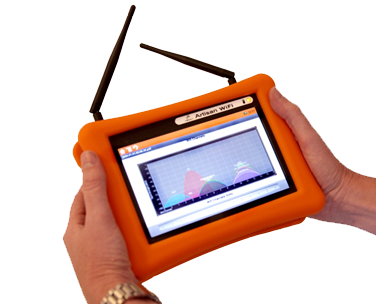 Both AirCheck and Artisan run around $2,000; I wasn't able to obtain pricing for the 802 AWE. Be aware that this caliber of WiFi tester usually requires licensed support for firmware upgrades and repair, and this will impact the total cost of ownership. It also appears that Artisan is marketed more to the UK, but I'm told sellers will ship stateside.
I don't think Fluke's AirCheck is in any danger of losing its crown as the handheld WiFi tester market leader, but it's nice to see competition and innovation. Hopefully, Trilithic and Vonaq can make a go of it with their products, as more options are good for those of us who support enterprise WLANs.
Lee is a Wireless Network Architect for a large private university. He has also tought classes on networking, wireless network administration, and wireless security. Lee's technical background includes 10 years in the US Air Force as an Electronic Warfare systems technician ... View Full Bio